Today on Arthro-Pod, the gang meets up with Dr. Rick Vetter of UC Riverside to bring you buckets of info on the brown recluse spider. This species of arachnid seems to inspire the most fear of all our eight legged friends. Tune in to hear all about their biology, why they seem to do well living in our homes, and some facts about their venom and bite. Maybe after hearing what we have to say, you'll see these spiders in a slightly different light!
The "face" of a brown recluse spider, Jody Green Nebraska Extension
If you have an interest in learning more about brown recluse spiders, we highly encourage you to buy and read Rick's book which can be found at these links:
The famous "fiddle" on the top of a brown recluse spider.

Lisa Ames, University of Georgia, Bugwood.org
Show notes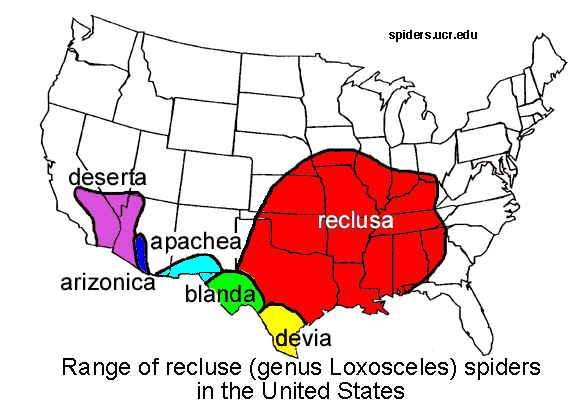 The known range of brown recluse spider establishment.
Brown recluse spiders on a glue board trap, Jody Green Nebraska Extension
Questions? Comments?
If you can spare a moment, we appreciate when you subscribe to the show on those apps or when you take time to leave a review!
Subscribe to our feed on Feedburner

!
Beginning/ending theme: "There It Is" by Kevin MacLeod (incompetech.com) Licensed under Creative Commons: By Attribution 3.0